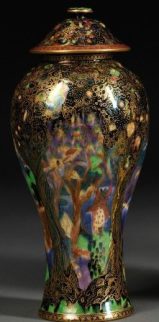 Thanks for visiting our site dedicated to fairyland lustre vases made by The Wedgwood Company.  Our site has information about how to value fairyland lustre.  You will also learn about marks, shape numbers, and pattern numbers.  The image guide gives you a nearly conclusive listing of the different image styles used by Wedgwood for their fairyland lustre line.
The fairyland lustre design was created by Daisy Makeig-Jones.  She started her career at Wedgwood in 1909.  Between 1916 and 1941 she was chiefly responsible for the creation and expansion of the fairyland lustre line.  You could buy something from the line as late as 1941.  However, production basically halted in 1931 due to the global recession.  Only 14 of the 101 pattern designs were available for sale after 1931.  Most of the most important lustre pieces were executed in the 1920s.
Quick Frequently Asked Questions:
-There aren't really any fake Fairyland Lustre vases.  But there are commemorative pieces that date to the 1980s.
-Condition is VERY important.  Make sure your piece has a nice crisp ring and check for any gilding loss or hairline damage.
-We buy and appraise all Fairyland lustre vases, bowls, and plates.  We also accept consignments as part of Manifest's decorative arts auctions.
Fairyland lustre is popular today because it is completely different not only from what Wedgwood was making at the time, but it was a totally unique look.  Most of the china used black or orange as the background color.  It was then decorated with fairies, elves, goblins, and ghosts of all colors and sizes.
If you need help with anything related to Wedgwood fairyland lustre, just ask.  We would be happy to make an offer on what you have.  Manning@FairylandLustre.com